This Pulled beef recipe takes a 3.5Kg slab of beef and cooks it for hours until the meat becomes so soft you can easily shred the meat with just a fork.  The resulting cooked meat is the starting point for a lot of easy to make recipes like beef tacos or curries.  This is the kind of meal you put in several house of cooking on the weekend, and then during the week when you make your meals you just need to spend 10-15 minutes.
Meat tricks – Cook in bulk and portion
One of the tricks we learned pretty early on that made eating Lo-Carb easy for us was to cook red meat and poultry in bulk and then freeze it in One meal portions.  I don't usually sear or caramelize the meat, I just cook it perfectly on a slow heat and then split it into ziplock bags
When I need to cook a meal, I can quickly grab a bag of something frozen, thaw it and just reheat it, or I can additionally sear just the outside for appearance or texture.
Pulled Beef
I usually start with a Bolar blade roast, this is a 3.5-4kg cut of meat popular in Australia that is basically the tricep of the steer.  I think the US and UK version of this cut might be the Chuck roast.  This particular roast as you can see is from CostCo.  Ideally you'd prefer a pasture fed meat, for a better Polyunsaturated fat profile (higher in Omega 3 fats), but grainfed Australian beef is still pretty good beef – and at $34 for what will be around 30 servings that is insanely good value for money.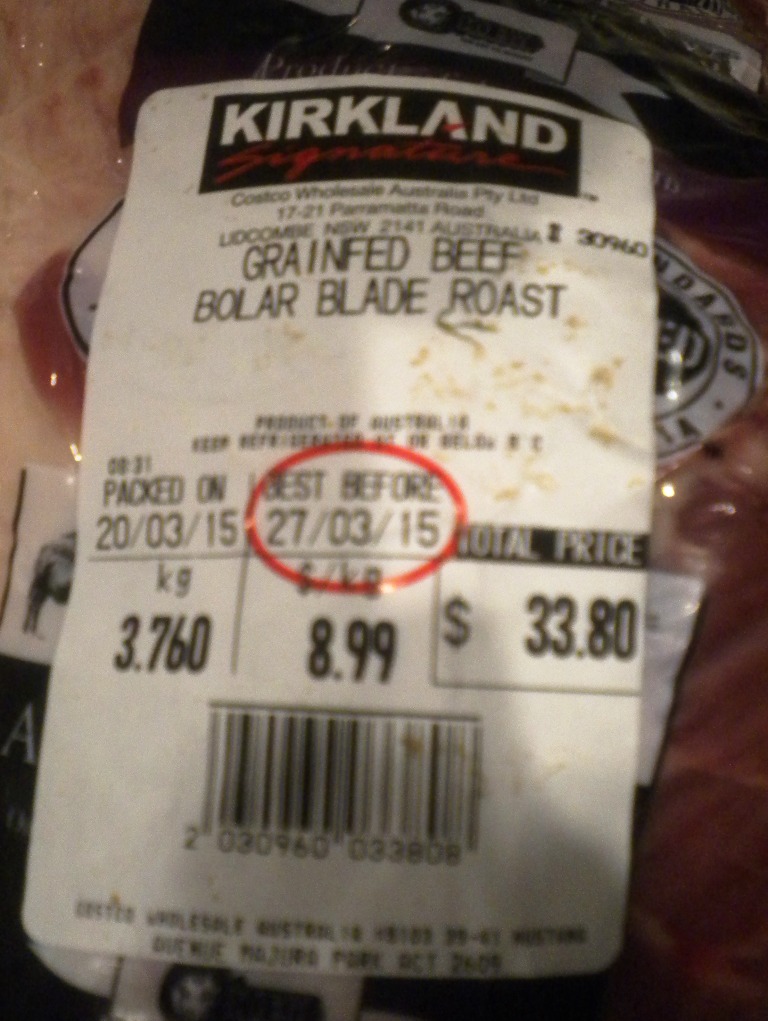 This muscle works as long as the animal is standing, and muscles that work hard are tough but tasty.  This cut also has quite a bit of Fat on it, which is exactly what we are after.
Slow Cook
We're going to slow cook this roast for 6-10 hours or until the fat renders out and the muscle starts to fall apart into long fibres.  The actual meat fibres themselves will become quite bland if you pull them out at this point.  Most of the flavour in the juices and rendered fat liquid at the bottom of the pan.  What we're going to do is cool the meat with the juices and the fibres of the muscles will soak up the rendered out fat and juices a bit like a paper towel soaks up an oil spill – and you'll be left with a juicy fat filled tender meat.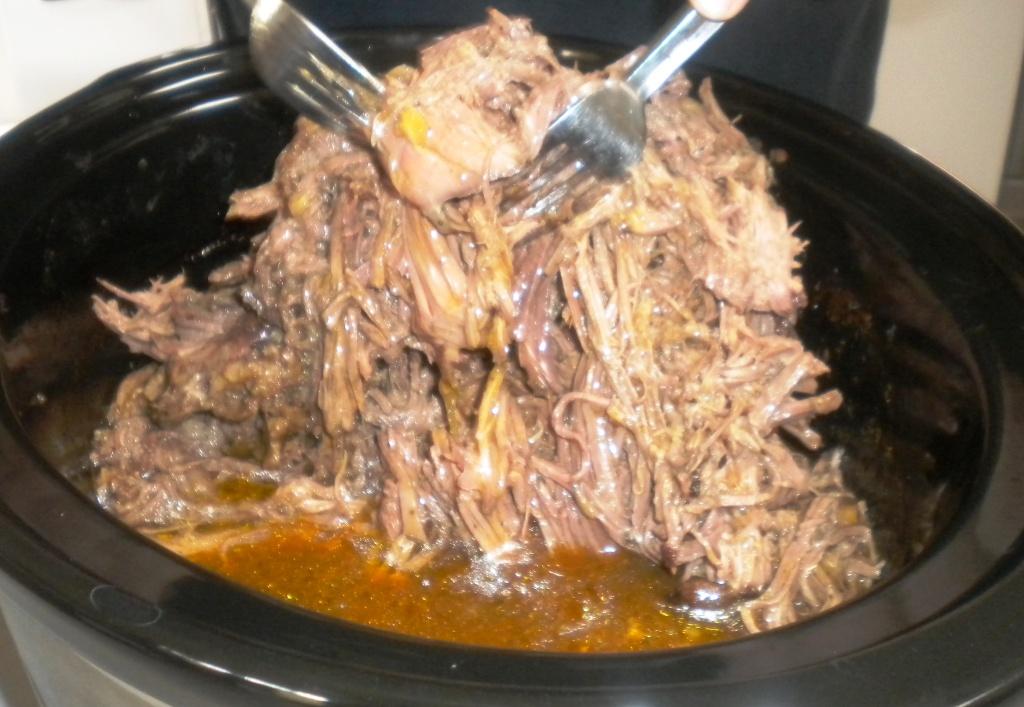 The critical thing with a slow roast is to put a little liquid into the bottom of the pan to make sure that the meat doesn't get dry and burn.  You can use any edible liquid as long as you realise some of it's flavour will go in the beef.   Some people use diet Dr Pepper – I don't get that.  I like diet soda and I like juicy beef, but I don't think I want those flavours together.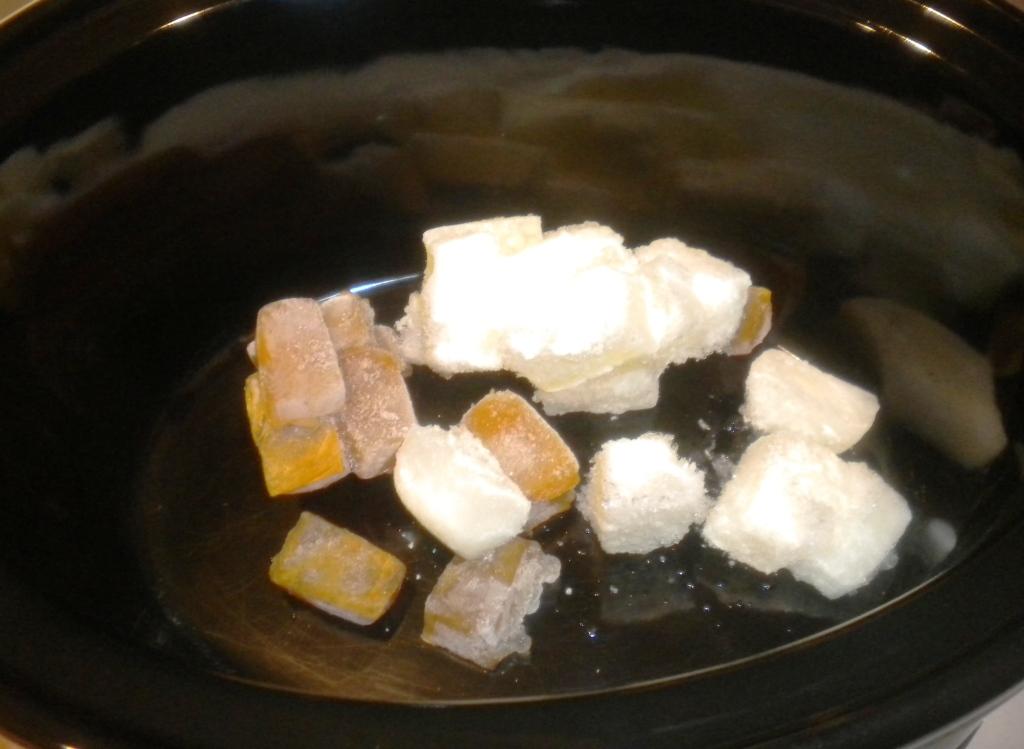 I'm going to use some Brown chicken stock I made about 6 months ago and froze in ice cube trays that are too old and dehydrated to use anymore in a regular meal.  I'm also going to use some whey left over from making Cheese that has also been frozen into ice cubes.
Aromats – to Taste
We're going to give the meat a wet spice rub.  The purpose here is to seal the meat a little so it doesn't get too dry, while imparting flavours that compliment beef.  Taste is a personal thing; you should use whatever flavourings you personally prefer.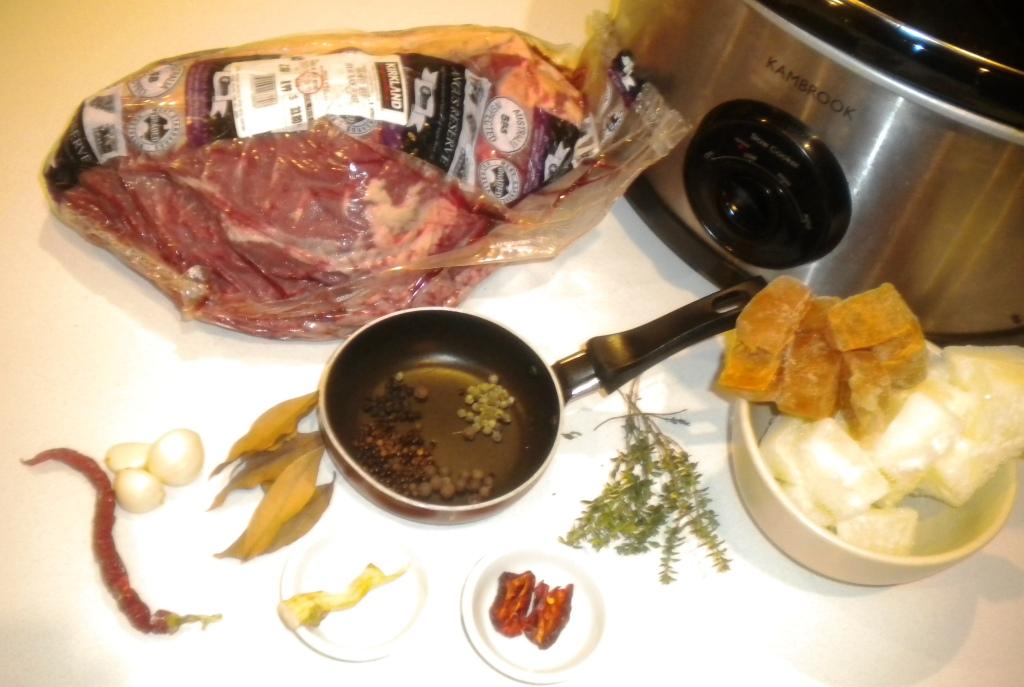 I personally like peppers with beef so I'll use 3 kinds including Jamaican pepper (Allspice pimentos) which is a common flavour used in Jamaican jerk meat recipes.  Garlic and Thyme are also both friends of beef – as is the odd knob of Horseradish I had lying around in my fridge, so in it goes.  Finally I like a good hit of chillies, so I'll add a fresh cayenne from our garden, and an old dried Habanero (Actually it's a scotch bonnet and one of the hottest chillies we've ever grown – evil little bastard).
I'm also adding a uniquely Australian bush spice called Wattleseed which is the seed of the Acacia plant and adds a nutty almost smoky flavour to the meat.
NB: This meat will still be a little underseasoned even with 10g of salt added for the cooking.  That is by design as I like to additionally season each meal uniquely.
Prepare into a Meal
You can make this meat into a meal, simply by thawing it out and reheating it and adding some cooked vegetables – such as in this Pulled Beef and Pumpkin meal.
You can also cook the pulled beef in a sauce like the 2 minute BBQ sauce to make this Sang Choi BBQ Bao.
Sometimes I like to cook it a little further in a frypan to caramelize the meat and make a crispy meat floss – such as in this Crispy beef and Fennel Salad.
---
Nutrition Facts
Serving Size 100g
Servings 30
---
Amount Per Serving
---
Calories 181
Calories from Fat 54
---
% Daily Value*
Total Fat 6g
9%
---
Saturated Fat 3g
15%
---
Trans Fat 0g
---
Cholesterol 0mg
0%
---
Sodium 153mg
6%
---
Total Carbohydrate 1g
0%
---
Dietary Fiber 0g
0%
---
Sugars 0g
---
Protein 30g
60%
---
* Percent Daily Values are based on a 2,000 calorie diet. Your daily values may be higher or lower depending on your calorie needs.
wp-nutrition-label
Put the spices in a small pan and cook them until they just start to smoke a little. Not only will this improve the oil based aromatics it will make your kitchen smell like the business.

Combine the spices, salt, olive oil, thyme, Garlic, Horseradish and Chillies in a small food processor or Mortar and pestle and process until you have a moist spice rub. The only aromats we're not going to add into the rub is the Bay leaves which will be added whole and removed at the end of the cooking process.

Cover the joint of meat with the spice rub.

Add 2 cups of liquid to the pan - I'm using an old brown chicken stock that I had frozen into stock cubes and some frozen whey left over from making cheese.

Add the Bay leaves and the rubbed Roast then cover.

Cook for 6-10 hours. This will depend on the type of slow cooker, the type of your roast, and the size of it. What we want is for the fat to render out of the cut (see those pan juices) and the meat to start to fall from the roast.

Now with a pair of forks tease apart all the fibres of the muscle until the entire roast has been shredded.

The flavour is mostly in that rendered fat and juice at the bottom of the pan - make sure when you pull the meat out you dip it in the juices so it soaks up the fat and flavour - otherwise the meat will be dry and bland.

Portion the beef into 1 meal lots using a kitchen scale and ziplock plastic bags stuffed into a large mug. For us 100g each of meat turns out to be the perfect individual serving, so we freeze 200g of meat per bag for a 2 person meal. I tare the scale with the mug already on it, push a new bag into the mug and fill it with meat until I get my desired weight, then pull the bag out and zip it removing as much air as possible.

Make sure to label the bag, and roll it up with the the label side outermost and put it in the freezer until you are ready to use.