The other day Duck breast were going out half-price at our local supermarket so we decided on a whim to have duck breast for dinner.
This we had on duxelle which is a mushroom based sauce made with the rendered duck fat, and ontop of a bed of "noodles" made from Daikon radish.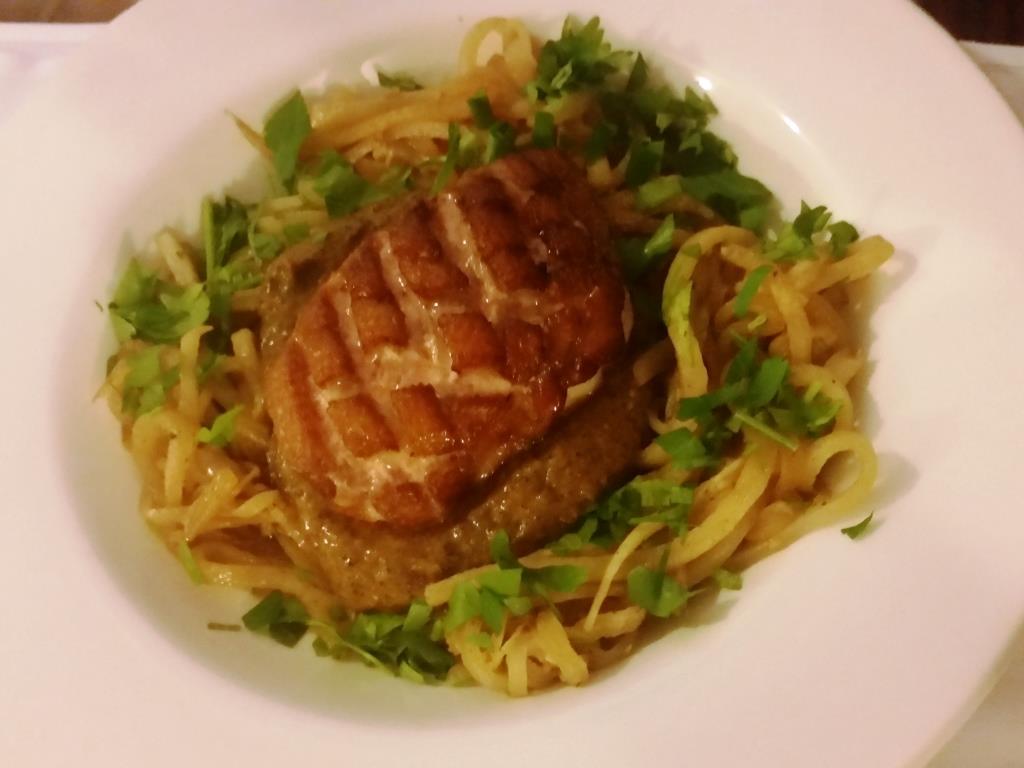 Put the breasts, skin side down in a glass bowl and cover with cling film

We're going to try to get a smokey flavor into the flesh side of the breast by using a cold smoking gun (polyscience or similar) and fill the bowl with smoke and let it dissipate - 3 times so the meat absorbs the flavor.
Pre-heat the oven to 200C and get a pan with a detachable handle on the stove warming up.

Score the skin in a cross hatch pattern with a sharp knife - this will allow some of the fat to render out.

Put the breasts in the hot pan, skin side down and cook for 3-4 minutes until you can see the color creep us the visible skin (you can just see it in this photo)

Turn the breasts and cook an additional minute

Pour off the excess duck fat into a second pan - we're going to use that for the duxelles

Place the breasts skin side up in the 200C oven for 8-10 minutes.
Chop mushrooms and dice the onion while getting the second pan (with the duck fat) up to heat.

fry off the diced onion until transparent, then add the chopped mushroom and fry till it has started to break down.

Add the chicken stock and cook for a minute before transferring to a heat proof stick mixing container and liquefying the mixture with a stick blender.
Remove the breast from the oven and rest it for 5 minutes before (optionally) slicing into it.

Place some duxelle on a warmed plate and place a duck breast on top skin side up.