I roast my own beans from single origin green beans (grown in Cairns, Australia and Bali, Indonesia), store them under vacuum and burr grind immediately before extracting by hand using a lever machine.  I guess you could say I might be a hard core Espresso drinker.
A slightly sweetened Short Black every morning is how for decades I have started the day – Wired.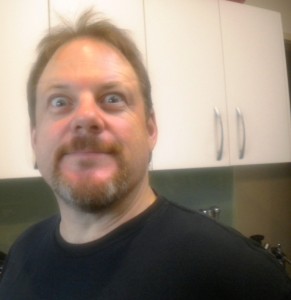 Short Fat Black
Anyway there is a lot of press noise these days about people who put butter in their coffee, which got my attention because I love my short black and since starting Keto I appreciate any excuse to get more fat into my diet – a Short Fat black.
The Bulletproof guy
Dave Asprey, in the US, built an entire brand around drinking coffee flavoured mayonnaise – Bulletproof coffee he called it.  Personally I think he jumped the shark several months ago.  I don't intend to waste a perfectly good blog post on his claims for his product because frankly there are only 2 that I'm interested in flavour and macronutrition and the remainder (mycotoxins / brain octane) are IMO just marketing.
So how does Mayonnaise made from Espresso taste?
I tried the Bulletproof recipe, which is a cup of "brewed" coffee + 2 tbs of butter and 2 tbs of oil although TBH I used actual coffee (espresso) instead of brewed coffee.  Also I used coconut oil instead of brain octane MCT oil.  The Bulletproof proprietary oil blend is just refined Coconut oil but has had the coconut essence refined out – meh I think the slight coconut taste works well with espresso and cultured butter.  The only downside I found was it was a bit thickshakey for an ideal mouthfeel.  After a bit of experimentation I found that 1 tbs each of oil with 2 shots of espresso emulsifies the short fat black up just nicely, and it drinks like a creamy latte with an extra shot.
Breakfast of Keto Champions
Most days I'll eat an royal omelette (+short black, natch!) for breakfast, but for those days when I am jin a hurry I just whisk up a Short Fat Black instead (It's a similar amount of energy) and I find that I can still power through until dinner time without experiencing any brain fades from lack of energy.
Note: If you are fueled by glucose then all the saturated fat in a short fat black will be the last energy source your metabolism taps for energy, so if you are not in a calorie deficit those calories will go straight to your love handles. If you are fat adapted, then saturated fats are the most preferential source and these will be the first calories burned.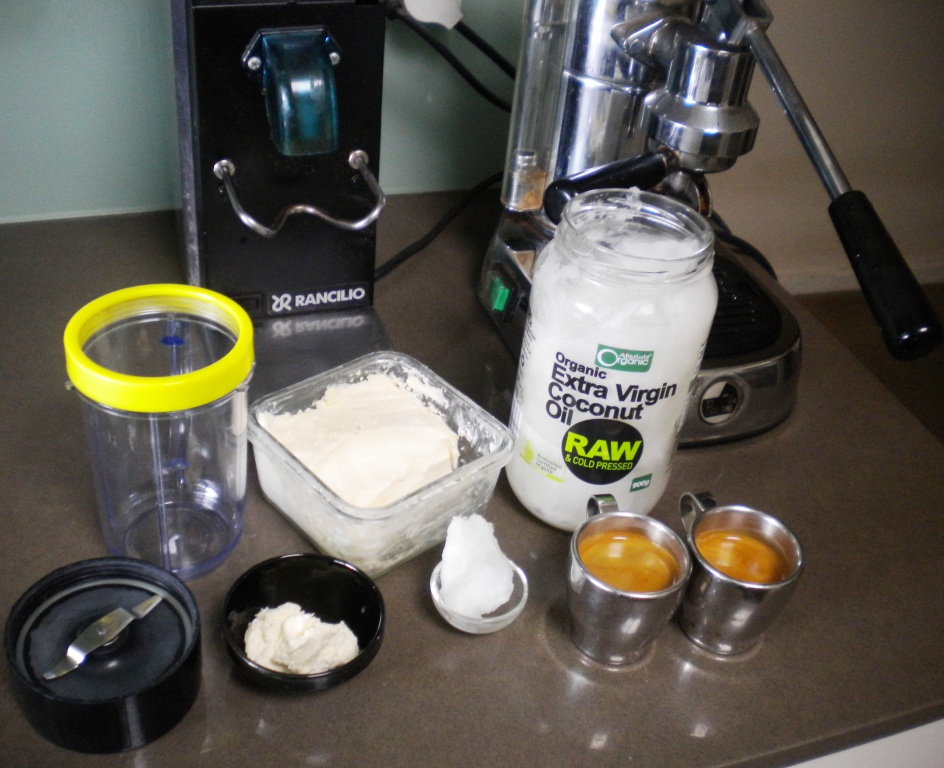 I am using homemade cultured butter which gives my short fat black a superior flavour and texture almost like a coffee flavoured creamy yogurt.  If you don't make your own butter, there is a Danish commercial cultured butter called Lurpak which is a decent second option.
---
Nutrition Facts
Serving Size 1 glass
Servings 1
---
Amount Per Serving
---
Calories 234
Calories from Fat 234
---
% Daily Value*
Total Fat 26g
40%
---
Saturated Fat 41g
204%
---
Trans Fat 0g
---
Cholesterol 117mg
39%
---
Sodium 10mg
0%
---
Total Carbohydrate 0g
0%
---
Dietary Fiber 0g
0%
---
Sugars 0g
---
Protein 0g
0%
---
* Percent Daily Values are based on a 2,000 calorie diet. Your daily values may be higher or lower depending on your calorie needs.
wp-nutrition-label
Pull 2 shots of espresso - I sweeten mine with a tab of Splenda for each shot because that's how I like my coffee sweetened.

Blend with butter and oil until emulsified - the texture will be like a freshly made mayonnaise.

Present in a glass - drink it before it gets a chance to split.