I L-O-V-E this recipe, to me it is better than the original. It is ready in a few minutes, easy, tasty and filling.
Jules
Miss that full feeling from a slow cooked polenta or cheesy mash?
This recipe is so much quicker and easier than a traditional polenta that needs to be slow cooked and watched closely.
This recipe is based on one I found a while ago, but I have added the stock and also the cream cheese as I thought it was too thin for me.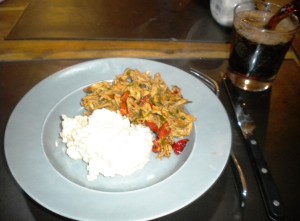 Here the polenta is shown served with Italian style pulled chicken.
Almond Polenta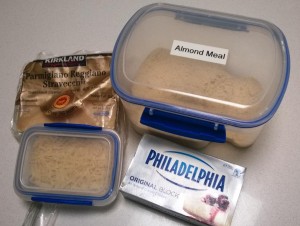 This is one of the simplest recipes …like ever…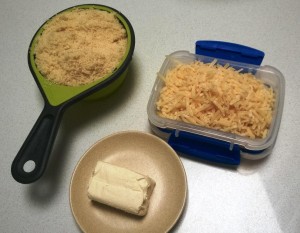 First put 100g of almond meal/flour (this is about a cup of meal) into a small saucepan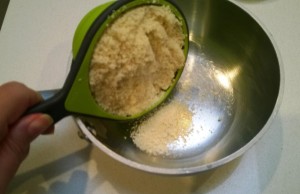 Then add a cup of water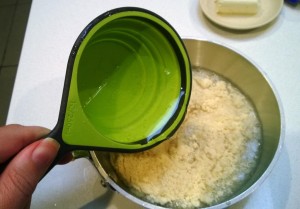 Whisk this until it is smooth and lump free – its going to be a bit grainy, thats why this is as is real polenta. It takes around 1 to 2 minutes.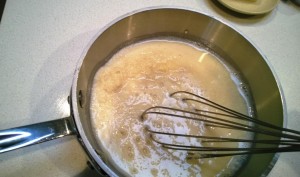 Then put the pan on a medium heat on the stove top and start whisking. (You can only just see the whisk in this picture below – I'm moving almost at the speed of light (yeh right!))
Keep whisking while it heats up,  if you leave it for a second or two the meal should start to bubble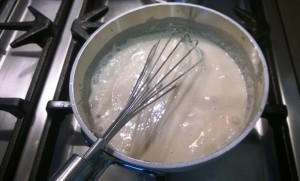 Add the cream cheese and Parmesan cheese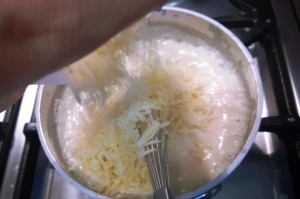 whisk these through until they have completely melted and combined with the almond meal and add salt to taste.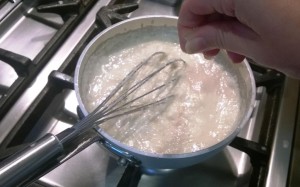 Keep whisking until the meal starts to thicken, (about 2 or 3 minutes)
Take off the heat, the meal will thicken more as it cools. Serve immediately.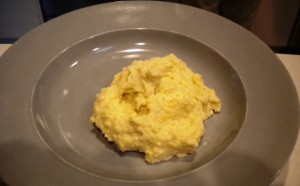 Serve with your favourite meat or veggies, here is it with Italian style pulled chicken.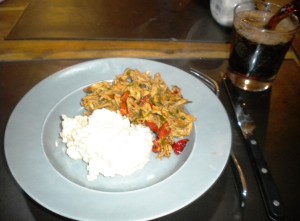 Yum !
---
Nutrition Facts
Serving Size Approx 100g
Servings 4
---
Amount Per Serving
---
Calories 234
Calories from Fat 189
---
% Daily Value*
Total Fat 21g
32%
---
Saturated Fat 5g
25%
---
Trans Fat 0g
---
Cholesterol 22mg
7%
---
Sodium 420mg
18%
---
Total Carbohydrate 2g
0%
---
Dietary Fiber 0g
0%
---
Sugars 2g
---
Protein 12g
24%
---
* Percent Daily Values are based on a 2,000 calorie diet. Your daily values may be higher or lower depending on your calorie needs.
wp-nutrition-label
NB: Net Carbohydrates here are 2g – 0g (fiber) = 2g per serving
---
Add almond meal to a small sauce pan then add the almond meal. Using a whisk, whisk until the mixture is free of any lumps.

Put on stove top over a medium heat and whisk while it heats.

When it starts to bubble at the edges or when you stop whisking, add the two cheeses and salt, keep whisking.

Keep whisking for 2 or 3 minutes until the mixture thickens.

Take off heat - Note the mixture will thicken even more while standing.