This is my third post for Easter 2015 – this time my Coconut chocolate bar.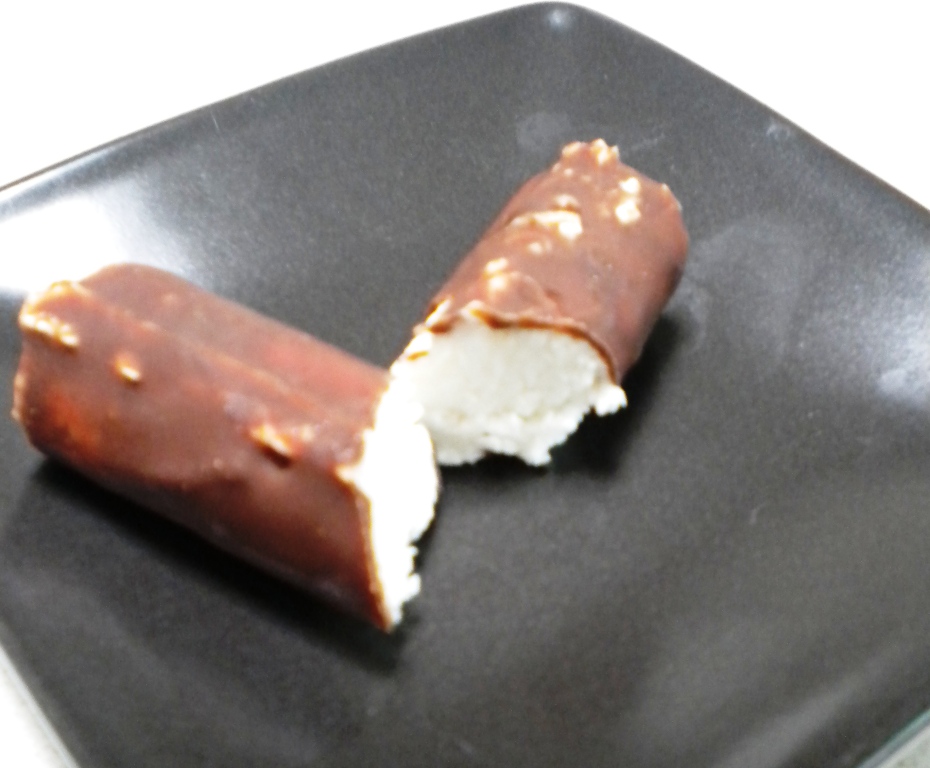 The Atkins bar
When we first started eating Lo-Carb we were in a sudden panic about all the sweet things we wouldn't be able to eat from our previous carby life.  From what other people who've done this tell me, that is a common reaction.  Sometimes it's Bread, and other times it's Pasta that people panic about.  For me it was sweets.
We stocked up on bulk supplies of Atkins chocolate bars.  The Atkins Endulge coconut bar is one of my favourites (sorry about the lousy focus).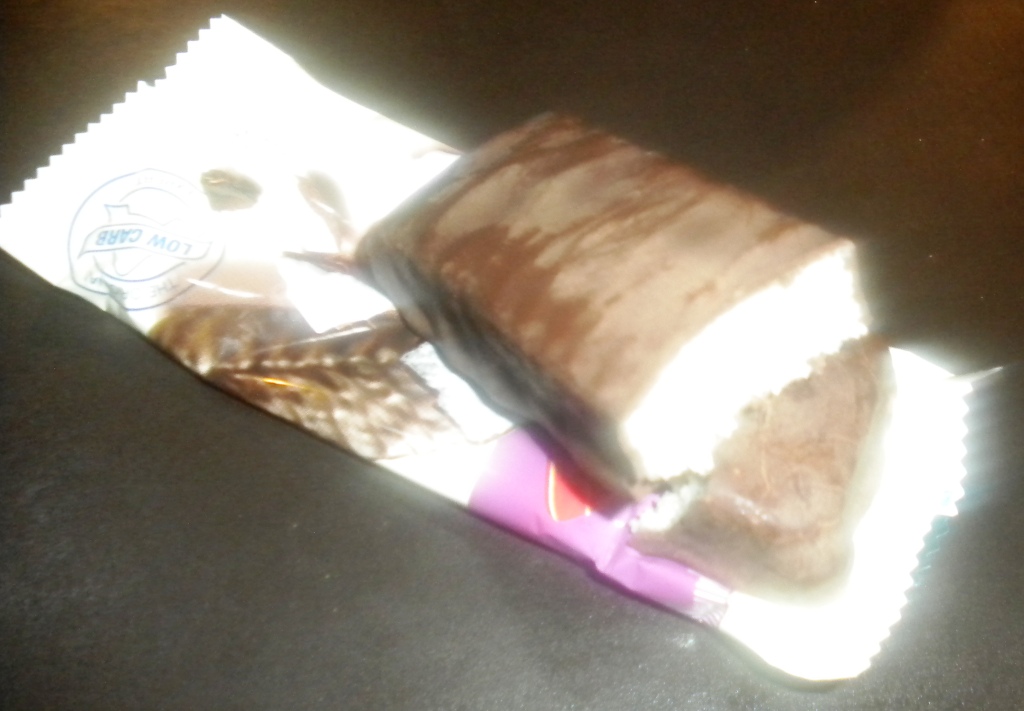 Anyway one of the problems about Atkins bars is that they have a lot of sugar alcohols which Atkins treat as non-digestible fibre but for some people sugar alcohols slow their weight loss.  They also have to be shelf stable for years – so they need a lot of stabilisers and preservatives and since we are now cooking all our own food I wanted to try to come up with a way to create a real food equivalent.
Temper temper
The reason a chocolate bar has a chocolate coating is to seal in the insides of the bar from the outside world – it is an edible wrapper for the soft inside contents.  The first step in making a chocolate bar is learning how to make a chocolate coating that melts in your mouth, but doesn't melt in your hand, yet provides some firm structural stability for the soft material inside – and that requires perfectly tempered liquid chocolate.
See: Make Lo-carb chocolates for more details on that art … or science as the case may be.
The right mould
The other big problem is finding a way to shape bars into reliable portions – and here we had a breakthrough.  There is a kitchen device called a Sodastream that allows you to make your own sodas at home, and one of the gadgets you can buy for the sodastream is an ice cube tray that makes 10 perfectly spherical ice cubes.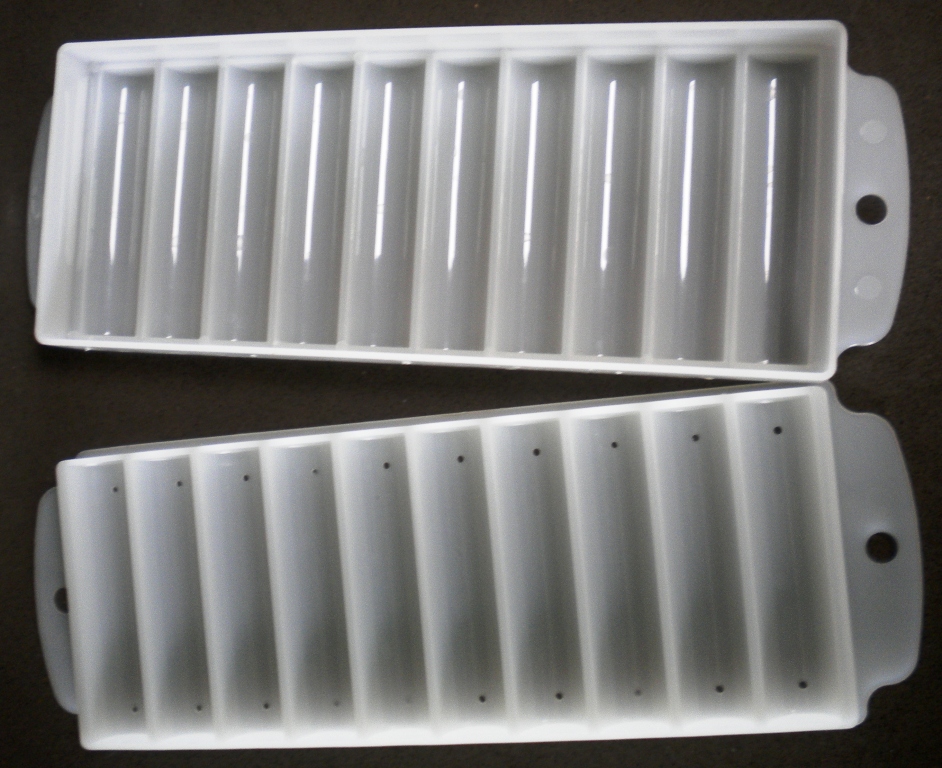 This turned out to be just the perfect size to make a bar – all we needed to do was grease the tray with a little coconut kitchen spray and with the addition of a few Bar bell weights it become the perfect mould.
A much healthier bar
Finally I needed a recipe that would give a nice soft mouthfeel and a toasted coconut flavour, while still being high in fat and as low as I could make it in carbohydrates.
The atkins bar is 179 kCal and 3g carbohydrates, 12g fat, 5g protein but there are 10g of missing carbs among the various sugar alcohols. This ends up being 29% Carbs : 60% Fat.
My coconut chocolate bar is 99 kCal – and 2g carbohydrates, 10g fat, 1g protein.  The bottom line here is 8% Carbs : 88% Fat.
Coconut Chocolate bar
Nutrition Facts
Serving Size 1 bar
Servings 10
---
Amount Per Serving
---
Calories 99
Calories from Fat 90
---
% Daily Value*
Total Fat 10g
15%
---
Saturated Fat 8g
40%
---
Trans Fat 0g
---
Cholesterol 3mg
1%
---
Sodium 14mg
0%
---
Total Carbohydrate 2g
0%
---
Dietary Fiber 1g
4%
---
Sugars 1g
---
Protein 1g
2%
---
* Percent Daily Values are based on a 2,000 calorie diet. Your daily values may be higher or lower depending on your calorie needs.
wp-nutrition-label
In a saucepan combine Coconut cream, Coconut Oil, Vanilla and simmer gently until completely combined then take off the heat.

Add sweetener to taste. I find it convenient to use Splenda tabs as it is easier to just add an extra one if it's not sweet enough - and they are easy to completely combine if you first crush them between two teaspoons. Also the texture of the chalky filler used in Splenda tablets is not actually a problem in this recipe.

Put the coconut flour and dessicated coconut on a tray, and toast in a 180°C oven for a few minutes until it has just started to go golden in colour. Watch this carefully as it can get away from you and burn and you'll have to toss out the burned mix and start again.

Put the toasted coconut mix into the wet ingredients. Coconut flour sucks up a lot of the liquid so knead this mix until it is well combined.

Push the mix into a greased mould - coconut spray oil is ideal for this task.

Set the filled mould in your freezer for a couple of hours with a weight on it to compress the bars.

Take the set bars out of the freezer and separate them with a knife. Don't worry if there are a few voids in the bars, or they are a bit rough around the edges - that will be hidden by the chocolate coating.

Prepare the Liquid chocolate. As we will be dipping cold bars in, that will lower the temperature so make sure to keep returning the chocolate to your tempering heat source every few bars to ensure it stays liquid.

Dip each bar individually in the chocolate mix, and place it on a rack to set. You will probably want to give each bar a second coating once set - but all you are trying to do is give the bar a coating that is resistant to melting in your fingers.

Let the bars set at room temperature, and you should be able to store them at room temperature as long as your room is below about 33.8°C.