If you are going to follow me on this Keto journey then you will need to learn to cook;
If you don't cook, you don't control what goes on your plate
When I started learning to cook, it was videos from real chefs like Marco Pierre White rather than TV chefs like Jamie Oliver that got me started.  Recently I've discovered chef Raymond Blanc's series and it has improved my cooking ability significantly because he is very generous with his explanations of why he does certain things.
5 minutes : 30 seconds in you'll find the slow squid recipe, and after that a great piece on butchery – heck the whole series is worth watching.
The following Slow squid recipe is a Easy Lo-Carb version of Chef Raymond Blancs Slow cooked squid.
Turning Slow Squid Lo-Carb
Garlic has a lot of Sugar so we'll replace this with some fresh Green Onions used raw for garnish, as well as that intense onion flavour.  Regular Onions also have a lot of sugar, so we'll swap in french shallots which have a more intense flavour so we can use a lot less and still impart flavour to the stew.  Finally we'll reduce the amount of Tomatoes – and as you'll see in my ingredient shot we are going to use Tomato puree that we had previously cooked and froze into ice cube blocks, but you can also use fresh tomatoes as well.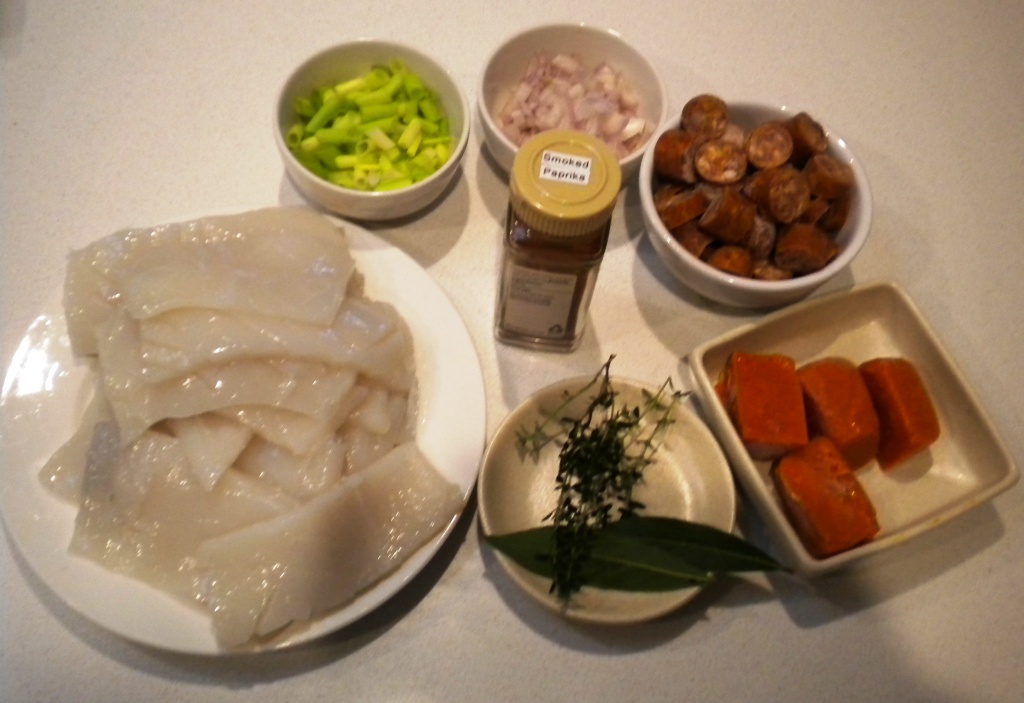 These will all go into a pan and cook slowly on the stove for an hour.  As Chef Blanc says, Squid you either cook for One minute or you cook it for One hour – nothing in between.
Right at the end we toss in a handful of fresh grape tomatoes for the last few minutes of cooking for visual appeal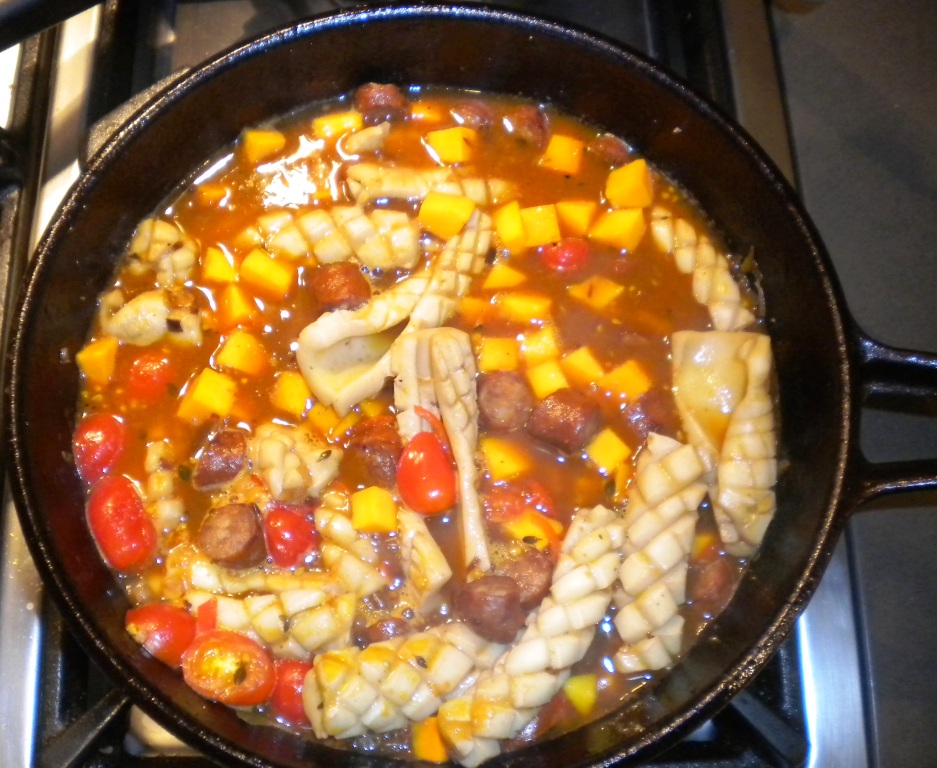 ---
Nutrition Facts
Serving Size 1 bowl
Servings 4
---
Amount Per Serving
---
Calories 298
Calories from Fat 63
---
% Daily Value*
Total Fat 7g
10%
---
Saturated Fat 4g
20%
---
Trans Fat 0g
---
Cholesterol 316mg
105%
---
Sodium 79mg
3%
---
Total Carbohydrate 14g
4%
---
Dietary Fiber 1g
4%
---
Sugars 2g
---
Protein 27g
54%
---
* Percent Daily Values are based on a 2,000 calorie diet. Your daily values may be higher or lower depending on your calorie needs.
wp-nutrition-label
---
 slow squid > quick squid
When cooked slowly for an hour the squid totally changes texture and the rubbery collagens in the meat melts and turn into gelatin – and the mouth feel is almost like silken Tofu.  But the most amazing transformation is the flavour – quick squid deep fried is usually lathered in Salt and Pepper because it has almost no taste, but when you slow cook the squid it imparts a delicious fresh seafood flavour to the stew.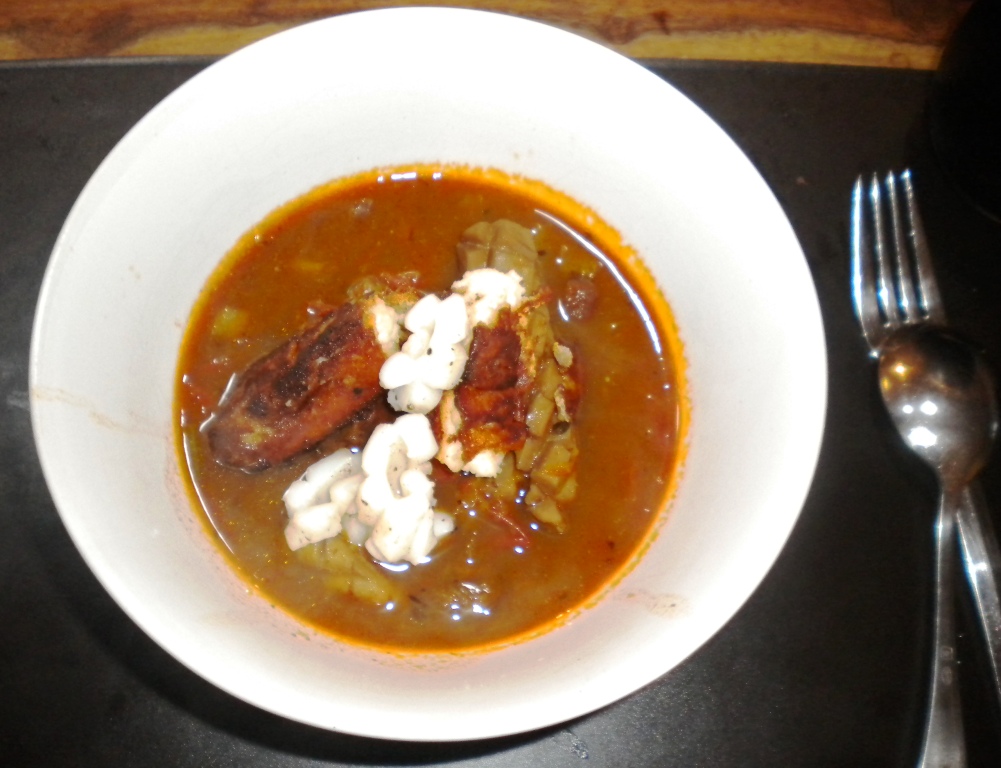 Note: This bowl also contains 50% of your RDA for Vitamins A and C

Clean any skin from the outside of the Squid tubes and remove the spine. Then open the tubes, and with a sharp knife score the squid tubes every 5mm then turn 90 degrees and repeat so you have a criss-cross pattern of scoring.

Cut the squid tubes into equal sized rectangles approx 15cm x 5cm. Reserve 2 pieces to fry at the end to use as a garnish.

Boil the wine in a saucepan to cook off the alcohol and then taste it and if it's still a little sharp cook further until the taste mellows. It can take about 3 minutes.

In a Pan cook your escallots in a nob of butter until transparent. Add Chorizo and brown it. Finally add the chilli pepper.

Add the cooked wine and the remainder of your ingredients (except the reserved garnish).

Turn down the heat and cook for an hour.

Fry the 2 reserved pieces of Squid in a deep fryer full of hot lard for no more than 1 minute. Then pop them on a bowl of stew to remind everyone of what is in the bowl.