As you may remember I made myself a Coconut chocolate bar that was about 90 kCal to replace the Atkins bar.  The only problem is that Julie isn't a big fan of coconut, so when I was having an Atkins coconut bar, she would have an Atkins peanut cluster bar – which is still high in sugar alcohols and preservatives and stabilizers.
So I developed the Maple Peanut Chocolate stick, using sugar free peanut butter (AKA Peanut paste) and essence of Maple.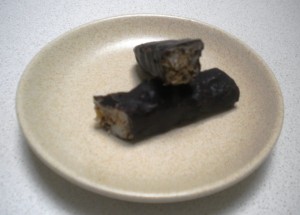 The Maple flavour I am using in this recipe comes from a concentrated maple essence product that only needs 1 ml to flavour the entire mix.  If you can't find that you can substitute with sugar free Maple Syrup in exchange for both the maple flavour and the sweetener (otherwise it would be way too sweet).
The spices I am using are Quatre épices from Herbies – which are also known as the Speculas spices (a swiss spice cookie).  I think that traditional pumpkin spices would be just as nice.  If you have access to Australian bush tucker spices, roasted Wattleseed goes superbly with Maple and Peanut.
A new Mould
This recipe turned out to be much more caloric (and carby) than the coconut bar, so instead of splitting the recipe into 10 bars, I needed to make 16 smaller bars – so the coconut bar mould I use wasn't going to be helpful.
We had another breakthrough.  When we bought our freezer we got several ice cube trays and additional trays without any compartments that  you use to extract the ice cubes.  These trays are stackable and with a bit of cling film and a couple of 5 kg weights we were able to put one inside the other and mould a single block of the recipe.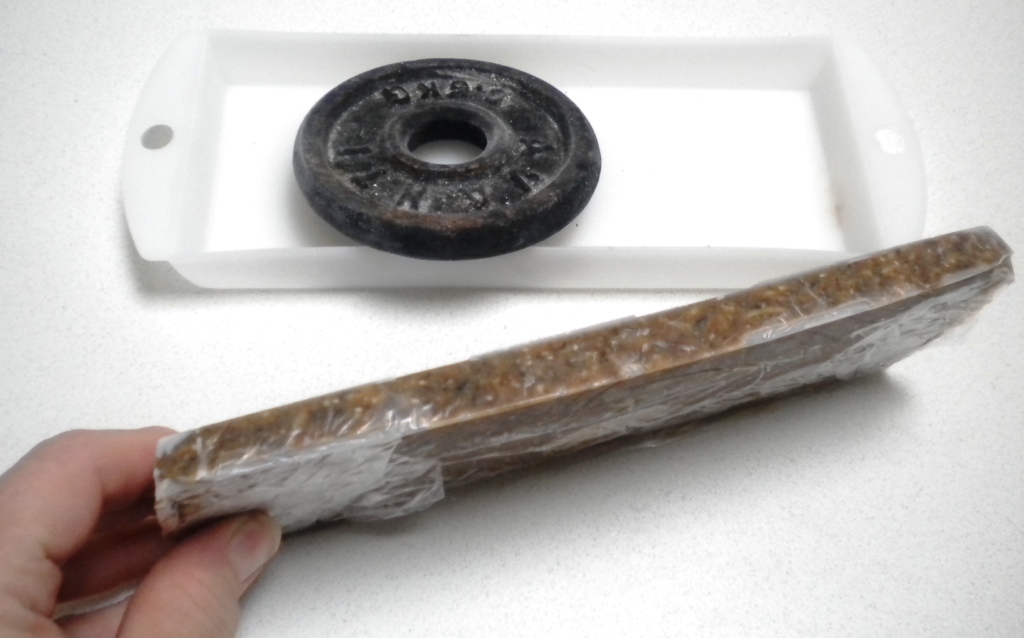 From there cutting into 16 pieces was trivial using a cleaver.
The final step is coating the bars with liquid tempered chocolate ( see: Make Lo-Carb Chocolate )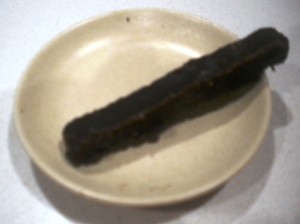 Maple Peanut Chocolate stick
Nutrition Facts
Serving Size 1 bar
Servings 16
---
Amount Per Serving
---
Calories 89
Calories from Fat 72
---
% Daily Value*
Total Fat 8g
12%
---
Saturated Fat 4g
20%
---
Trans Fat 0g
---
Cholesterol 2mg
0%
---
Sodium 5mg
0%
---
Total Carbohydrate 2g
0%
---
Dietary Fiber 1g
4%
---
Sugars 1g
---
Protein 2g
4%
---
* Percent Daily Values are based on a 2,000 calorie diet. Your daily values may be higher or lower depending on your calorie needs.
wp-nutrition-label
Mix the cream and sweetener in a saucepan and simmer until it has reduced by half - we are essentially making a replacement for sweetened condensed milk here.

Take the saucepan off the heat and add Coconut Oil and allow it to melt into the mix

Add Peanut butter this will probably need to soften in the residual heat before it incorporates well into the mix.

Add Maple Essence, and mix well - now this is the time to taste the mix to see how much spice to add and whether you have enough sweetener.

Put the Chia seeds, Coconut flour and Dessicated coconut on a tray and toast it under a grill until golden brown.

Combine ingredients and knead the ingredients until the coconut flour has soaked up the liquid. (don't worry if you see slivered almonds in the photo - that was from an experimental branch of this recipe)

As a mould we're going to use a pair of ice cube extraction trays - simply spray one with coconut oil spray and line it with cling wrap, and spray the cling wrap with coconut oil spray so the bars don't stick to it.

Fill the tray with the bar mix.

Spray the surface of the mix with a little coconut oil spray and fold the cling wrap edges over it.

Put another tray over the first and put a weight on it and put it in the freezer to set.

Once the mixture has set, remove and portion into 16 pieces with a knife. You might be able to see I broke a few in half in the process - you can easily glue these together with a little coconut oil.

Dip in the tempered liquid chocolate and place on a rack. You can set the bars at room temperature, although I always seem to get hasty and put them in the freezer for a quick set. The ones in this photo were set in the freezer and you can see that I lost some of the temper (some of the chocolate is a bit dull) - but they will still taste great.