Everyone loves bacon, except those who can't enjoy it for religious reasons, or Vegans … but perhaps I repeat myself.  For 40 years we've been told not to eat bacon because it has too much saturated fat and that raises your cholesterol and that causes heart attacks.  Except that that has all been shown to be a tissue of lies.  Because after spending billions of dollars in half a dozen of the largest scientific studies that humans have ever attempted, designed to show that link … it turns out that there is no link, and emerging science has shown that there never was.  So now I'm making bacon because …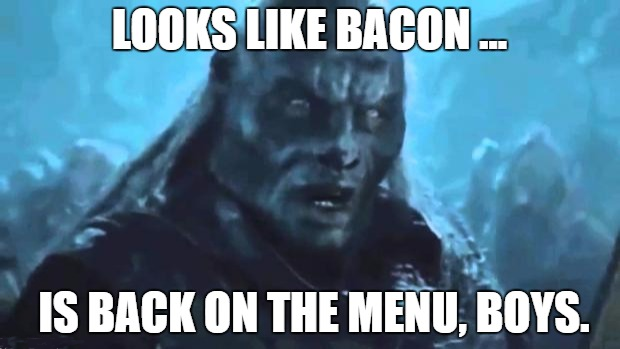 Making Bacon
There really is no better bacon than homemade where you can choose exactly how fatty you want your bacon to be, what flavours you want to impart to it in the curing process and how thick and how you want to cut it.
Start with skin on Pork Belly
You probably know that the other week I did a recipe with 1kg of baked pork belly cut from a 4kg slab of the stuff and I promised something interesting with the remaining 3Kgs.
Well I made 2×1.5 kg slabs of bacon, one cured with a pepper rub made from a variety of peppers including bush tucker pepperberries and then smoked in a hot smoker, and the other just smoked without any other flavours.
The reason I like to get the skin is that you can be sure that the bacon has all it's subcutaneous fat and none of it has been trimmed off, but also the skin is delicious and with so much fat it turns into a sliver of crackling down the side of every rasher of bacon.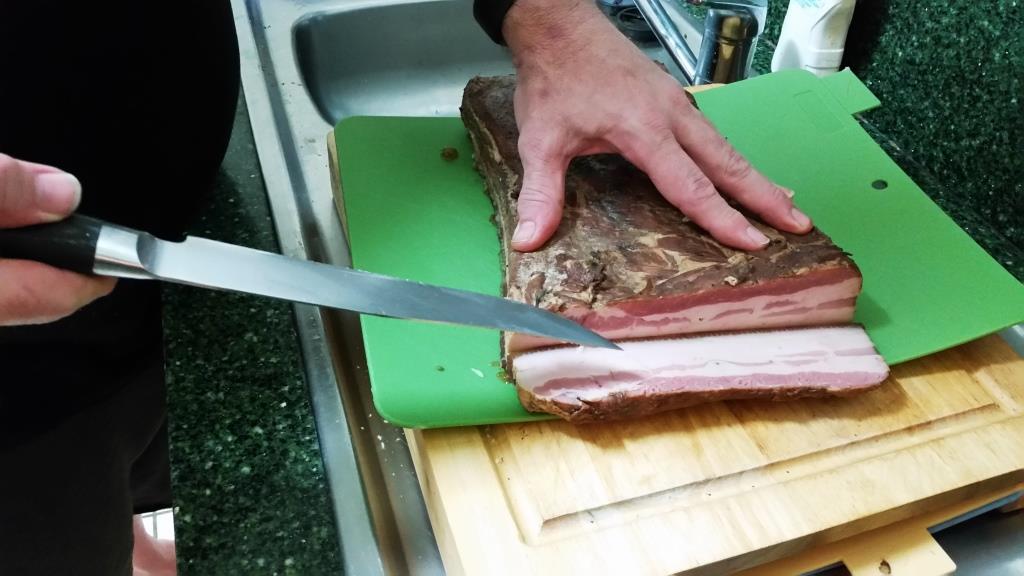 After tasting just how good this bacon is, it'll be a long time before I'll be buying rashers of bacon ever again.  They are just that good.
Besides I now have 3 KG of bacon in my fridge and it will take me some time to eat all that.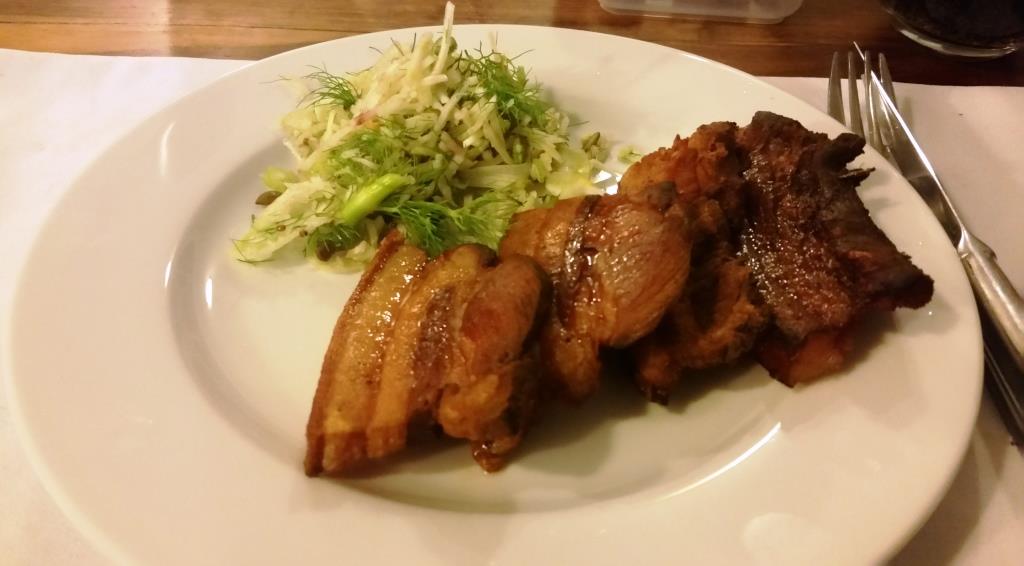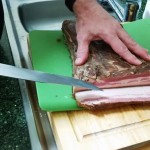 Homemade Bacon is so good you may never buy commercial rashers again.
| | | |
| --- | --- | --- |
| | | Homemade Bacon is so good you may never buy commercial rashers again. |
Wash the pork belly and pat dry with a paper towel cut it to size to fit your curing tray. You can also use a bag but as the process will create some liquid a pan is easier.

Grind the rub spices and herbs mix with the salt and the prague powder in a blender until well mixed.

Rub the pork belly with the salt cure. Make sure to get into any cracks and crevices in the cut that were left from the trimming process.

Cover the pan with cling film and place in the fridge for a week to cure (turning the pork belly daily to make sure that both sides are in full contact with the salty liquid that comes out of the pork belly)

Remove the cured pork belly from the tray and rinse it thoroughly and pat it dry with paper towels.

Put the cured pork belly in a fresh tray skin side down. Stick a BBQ thermometer into the meat.

OPTIONAL STEP: Smoke the meat in a hot smoker for 30 mins to impart smokey flavour to the 5 non skin sides of the cured pork belly.

Now cook the bacon in a 95C (200F) oven until the internal temperature has reached 65C (150F). About 2 hours.

Let the bacon cool down to room temperature.

Slice with a kitchen slicer or sharp knife into thin rashers ... or since this is your bacon and you make the rules ... into THICK rashers.