A couple of weeks ago I had a fine meal at "The Column" restaraunt at the National Press club in Canberra that included a dish called "72 hour beef", and I've got to say it may be the greatest meal of beef that I have ever had – and that among a field that includes Morton's, Ruths Chris's, Stripsteak and Del Monicas in the USA.
The other day I joined a lot of the folk at the 2KetoDudes facebook group (fb.2keto.com) on a 3 day fast, and usually I like to prepare a special fast breaker … and it occurred to me if I have to wait 72 hours to eat that meal, then maybe my protein should too so I decided to attempt 72 hour beef … and
IT…WAS….AWESOME.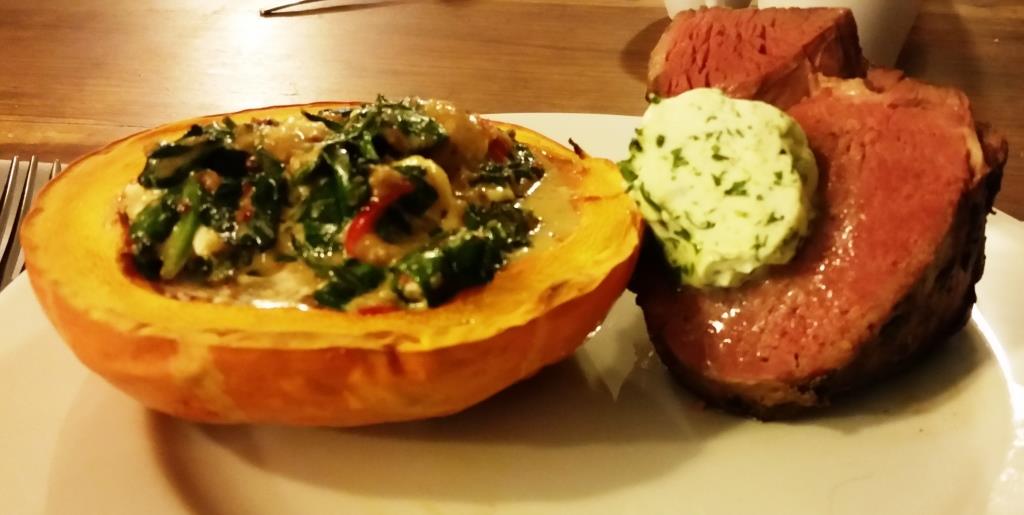 72 Hour Beef
So we're going to seal up the beef in a vacuum bag and drop it in a water bath set to the exact temperature to cook beef medium rare – but we're going to cook it for 72 hours.
Now there are plenty of recipes around to take a tough cut of beef like a short rib and cook it for a long time, and what happens is that the collagen in the connective tissue turns into gelatin which makes a tough cut of beef soft like jello.
We're going to use one of the best cuts of beef – the rib-eye or as we call it in Australia the Scotch fillet.  What cooking this for 72 hours is going to turn this already excellent cut of beef into something that truly transcends beef.
We're going to cook this beef at 56C which is the correct temperature to achieve the perfect Medium Rare cuisson, for 72 hours which is long enough to unravel all the collagen protein and turn the sheaths of every muscle fibre into gelatine.
This will have the texture of an unctuous oxtail with the flavour of the greatest medium rare rib-eye you have ever had.
Pasteurized for your protection
One important thing about cooking meat at a low temp – bacteria can reproduce at that temperature.  Bacteria live on the outside of muscles, they usually can't penetrate into a muscle.  Normally when you cook a steak in 5-8 mins on a hot pan that is hot enough to pasteurize the surface of the steak where the bacteria are and you can eat the steak blue rare if you want and not risk your health.
However when you cook meat low and slow there is plenty of time for colony forming units of Bacteria to reproduce enough to threaten the immune system of a child or immunocompromised diner.
So there is a trick.  You hold the sealed bag at 85 C for 5 minutes.  That cooks the very outside millimeter of the meat and completely pasteurizes it … then you are free to take it down to the hot bath tub temperature of 56C and let it do it's thing for 3 days.
Seared
Finally we're going to quickly sear it in a piping hot cast iron pan.  Remember you have already cooked the outer millimetre while pasteurizing the meat we're going to take that outside 1 mm to a perfect brown crisp well done.  Then we cut it on the bias so you can see it is perfectly medium rare from edge to edge.  And you have what I believe may well be the perfect steak.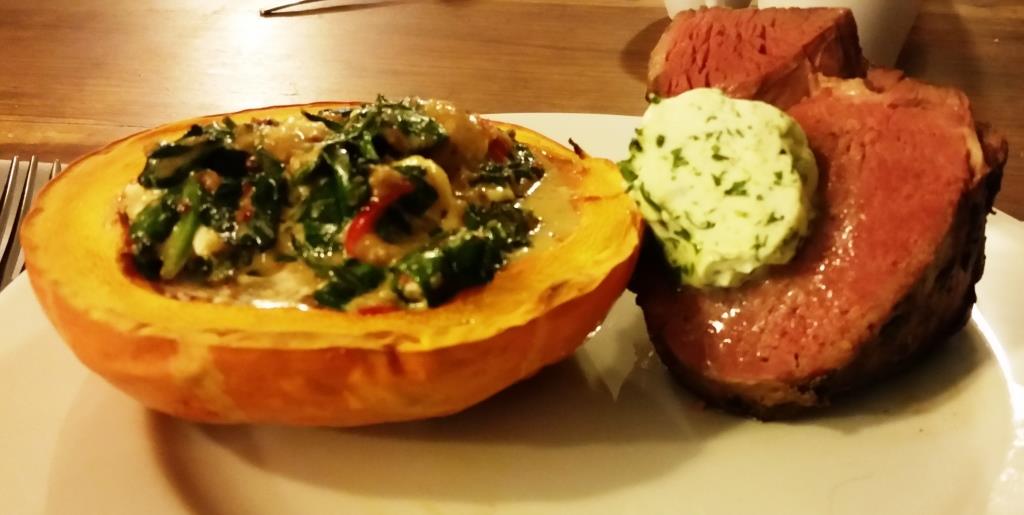 Portion the roast into 4 x 2 person portions.

Season each portion well with salt and place in a vacuum bag with 2 tbsp of butter. (Note I used disks of parsley butter)

Remove all air from the vacuum bag and seal it twice.

Repeat with 4 bags - each containing a 2 person portion.

Get a pot of water up to 85C (185F) and immerse the bags in that pot for 5 minutes making sure that the pot stays at that temperature using a thermometer.

Remove the bags once the contents have been pasteurized and place them in your water bath and cook them at 56C (133F) for 72 hours.

Get a cast iron pan hot and quickly sear all surfaces of the roast so they are crispy and have a pleasant texture. Then slice the 2 person portion on the bias so you can see the entire portion of meat is perfectly medium rare from edge to edge with just that little 1 mm sear around the outside.

Serve with a disk of herb butter and a choice of winter vegetables. Here we have a potimarron from our garden filled with creamed spinach.