A low carb chilli paste, that we keep frozen to use in many dishes. We make up batches using about 12 long red chillies at a time, but it is good to start with a small batch to ensure that the heat is right for you. We find that one serve (About 1 1/2 tsps) is the right heat for one of us.
An easy convenient way to add the right amount of chilli to your recipes
Since embracing the LCHF lifestyle, we have found that our savoury taste buds have blossomed and we are both loving adding some heat to our meals, especially Southern European and Asian style dishes. So here is the Easy way to make up a paste, freeze them and chilli is always ready to go.
The pictures are actually from a bigger batch than the one in the recipe, we tried a small batch first to ensure that the heat from the chillies we chose was right for us.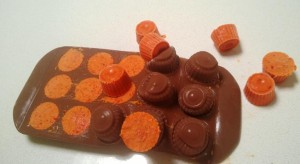 Chilli Paste
The ingredients are, long red chillies – or to your own taste, get 2 or 3 birdseyes for each long red if using them. Some salt, oil, dried chillies and shallots (onions will do if you can't get shallots).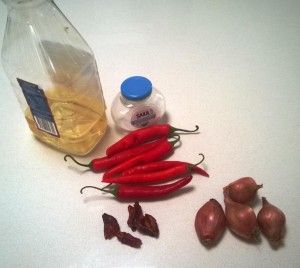 To start, if using dried chillies (We have also done a batch that substitutes a habanero for the dried chilli) soak them in boiling water, just enough to cover them.
Then cut the top of the chilli and cut length ways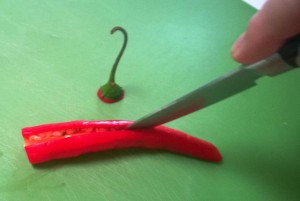 Using a teaspoon, dig out the seeds of the chilli – of course if you like the heat of them and don't mind the bits, then leave them in.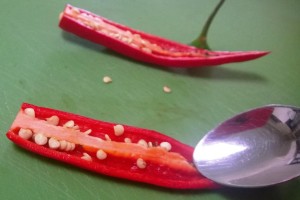 As you slide the spoon down the length of the chilli, the seeds will come out and leave lovely red flesh.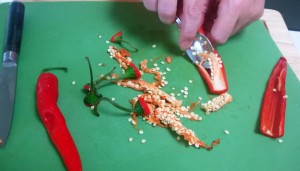 Once they are all de-seeded, roughly chop the chillies – this just make it easier to put in the blender.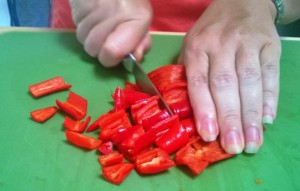 Put the chillies in the blender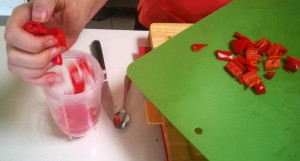 Then add the strained dried chillies – don't throw out the soaking liquid yet, if the paste is a little dry you can use this to add more liquid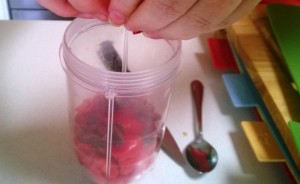 Then peel the shallots – if you can't get these, you can use onions.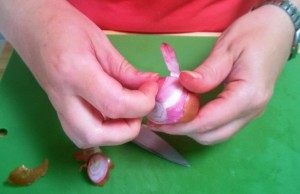 Next chop the shallots roughly again.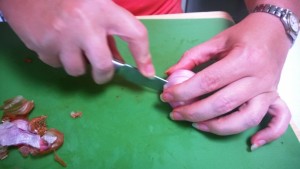 Add the shallots to the blender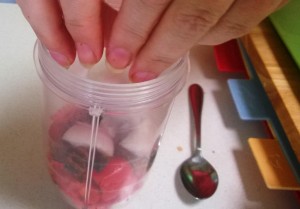 Make sure that you have some room in the blender, if it is too full it might be worth blending in batches, but mix all the batches together to get an even flavour.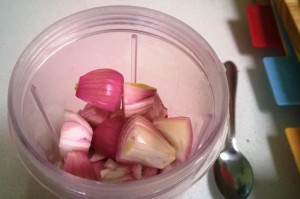 Next add salt to the blender,as you can see we use the low sodium salt, more because it replaces some of the sodium with potassium, than needing to reduce our sodium.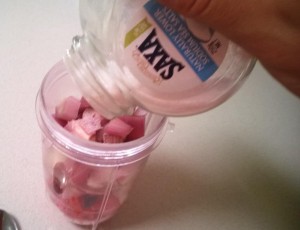 Next add the oil to the blender, you can use anything you like, here I am using peanut oil, but you can use coconut, olive or anything.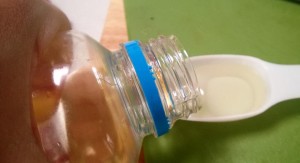 Put the lid on the blender and …
Blend – you can see the bottom part starting to blend here.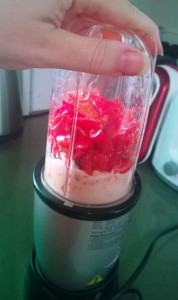 Once it is even and as smooth as possible it is done.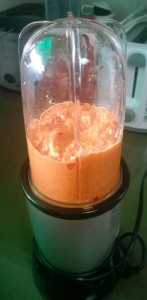 So we then found this silicon chocolate mould, it holds about a teaspoon and a half which we have found is the right amount of heat per person for us.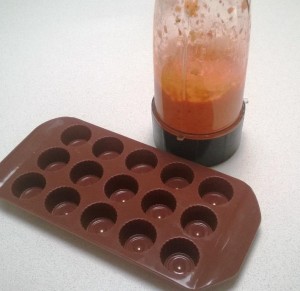 You can use ice cubes, but they do tend to be bigger – maybe 2 1/2 times bigger or so. So either don't fill them to top or use one cube where our recipes say two of ours. (We got our mould for $2 from K-Mart here in Australia – we have used it for these, chocolates etc – well worth it)
Once the tray is filled, freeze until solid.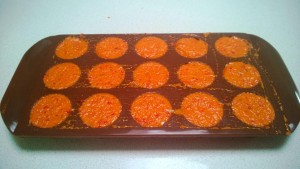 Then push them out of the moulds, put them in freezer bags marked with the date and details (So you can use old ones first).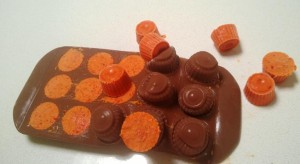 In some of our forthcoming recipes we will have these individual blocks as part of the ingredients. If you are not a chilli person, just leave them out. The hotter you like the more you can add.
---
Nutrition Facts
Serving Size Approx 7.5mls
Servings 6
---
Amount Per Serving
---
Calories 17
Calories from Fat 9
---
% Daily Value*
Total Fat 1g
1%
---
Saturated Fat 0g
0%
---
Trans Fat 0g
---
Cholesterol 0mg
0%
---
Sodium 100mg
4%
---
Total Carbohydrate 2g
0%
---
Dietary Fiber 1g
4%
---
Sugars 0g
---
Protein 0g
0%
---
* Percent Daily Values are based on a 2,000 calorie diet. Your daily values may be higher or lower depending on your calorie needs.
wp-nutrition-label
NB: Net Carbohydrates here are 2g – 1g (fiber) = 1g per serving
---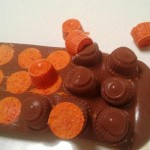 Chilli Paste made with smaller amounts of high carb ingredients.
Servings

Prep Time

6

(1 1/2 tsp)

10

Minutes
Servings

Prep Time

6

(1 1/2 tsp)

10

Minutes
Chilli Paste made with smaller amounts of high carb ingredients.

Servings

Prep Time

6

(1 1/2 tsp)

10

Minutes

Servings

Prep Time

6

(1 1/2 tsp)

10

Minutes
Soak the dried chillies - if using - in some boiling water - just enough to cover them.

Cut the long chillies lengthways and remove the seeds, then chop roughly.

If using Habanero instead of the dried chilli, remove seeds and roughly chop

Peel and chop shallots roughly

In a small blender, add all the ingredients and pulverise until as smooth as possible.

Using either a ice cube tray or a chocolate making silicon mould, add the paste to the tray or mould. In our proportions, each serving is about 1 1/2 tsp.

Freeze the paste, then remove from the tray or mould and put into freezer bags marked with the date and details.