This meal started out as an attempt to replicate the presentation of a moroccan style baked egg in lamb mince, but using traditional European flavour profiles to compliment the lamb mince (rosemary, thyme and garlic) rather than the traditional Ras el hanout spices more common in North Africa (cinnamon, cumin, coriander seed).
Baked egg in lamb mince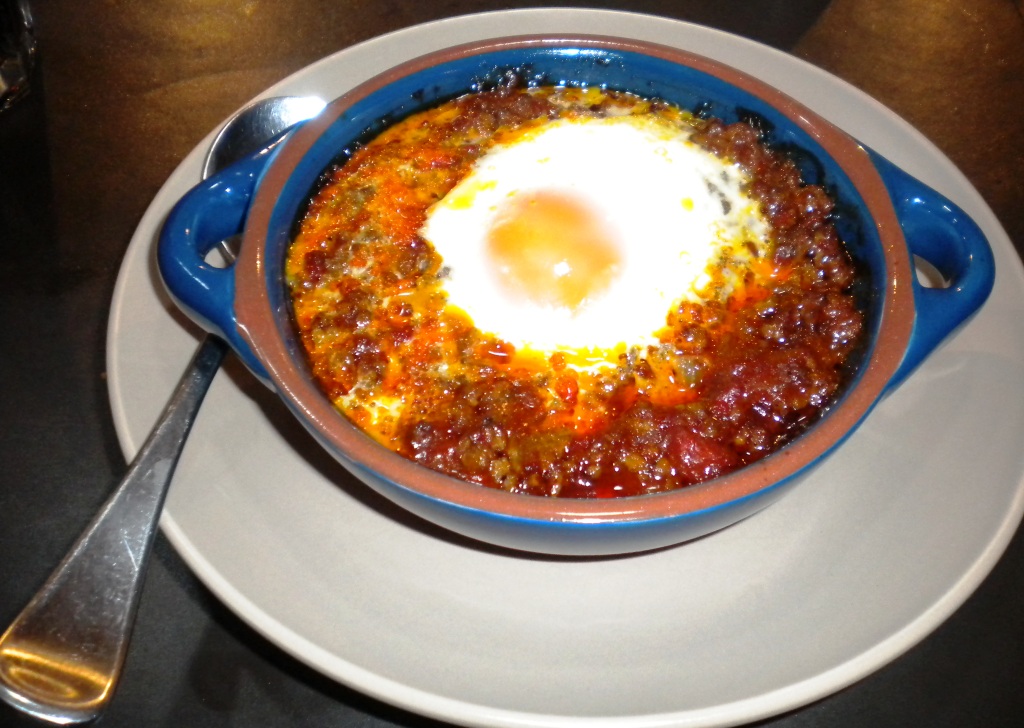 You can use any kind of mincemeat and chose flavour profiles to go with it; Pork with Sage, Beef with Thyme, or Lamb with Rosemary and/or Lemon Thyme.  In this case we added a little smoked paprika both for Color and for flavour depth.
Lo Carb tricks
If you are using Australian lamb like we are, you can feel free to chose the fattiest mince you can find – Australian lamb (and veal) is pretty much all grass fed, so the fat is exceptional.  Grass fed animals produce fat that has 5 times the amount of Omega-3 polyunsaturated fatty acids over lot (grain) fed animals.  If you ate a meal of oily fish once a week you are probably getting plenty of Omega-3 fatty acids.
If not and you have grain fed beef or pork you can always drain off the fat once your mince has become caramelized, and then add in fresh beef dripping or lard.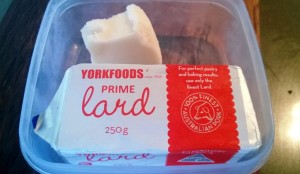 Most of the carbohydrates in this meal come from the Tomatoes.  We're using a  whole tin of peeled tomatoes – some of these have sugar added in the canning process which is kind of stupid as it's not needed to further preserve food that has been canned, and not really needed to improve the flavour of ripe tomatoes that naturally already have quite a lot of sugar.
Make sure you go through all the sources of tinned tomatoes in your supermarket and identify the one with the lowest carbohydrate content.
Finally we are going to add a little red wine – a dry red like a Durif or Tempranillo is ideal and will have less sugars than most red wines.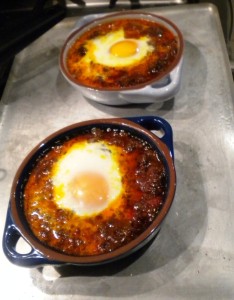 Baked egg in lamb mince
Nutrition Facts
Serving Size 1 bowl
Servings 6
---
Amount Per Serving
---
Calories 316
Calories from Fat 180
---
% Daily Value*
Total Fat 20g
30%
---
Saturated Fat 7g
35%
---
Trans Fat 0g
---
Cholesterol 284mg
94%
---
Sodium 165mg
7%
---
Total Carbohydrate 7g
2%
---
Dietary Fiber 1g
4%
---
Sugars 5g
---
Protein 26g
52%
---
* Percent Daily Values are based on a 2,000 calorie diet. Your daily values may be higher or lower depending on your calorie needs.
wp-nutrition-label
In a hot fry pan, add chopped Onions, and sweat them until transparent.

Add chopped/crushed garlic. Cook for a few minutes until the Garlic has broken down.

Add lamb mince, and cook it until the mince is cooked through and has browned a little.

Add a tin of chopped Tomatoes and cook until the Tomatoes have completely broken down (around 2 mins)

Add capsicum, tomato paste and wine. Cook for 5 more mins.

Add fresh Chilli, and herbs and Spices. Cook while stirring regularly to prevent the mince sticking to the pan and burning. It will be ready when the fat sits at the top of the pan (5-10 minutes).

If you don't need all 6 servings immediately, you can cool the remainder of the mixture at this point and come back to the next step a few days later.

If you have individual dishes then you can divide the mixture into oven proof individual dishes. Make a well in the middle of the dishes and crack an egg into each.

If you don't have individual dishes you can use a skillet/frypan that can be put in the oven and make multiple wells equally around the larger pan and crack an egg into each well.

Put into the oven for 12 minutes, max. The white should be cooked, but the yolk should still be set on the outside and liquid inside so when you cut it with a knife it sauces the top of the dish.